The Barry County Fire Association and Barry County United Way would like to remind residents that the free smoke detector program is still going on throughout our community. "This program can provide the first alert to getting out of a home when fire is eminent", says Hickory Corners Fire Chief Mark Iles. A grant from the Pennock Foundation and Hastings Kiwanis made these detectors available for free to qualifying households.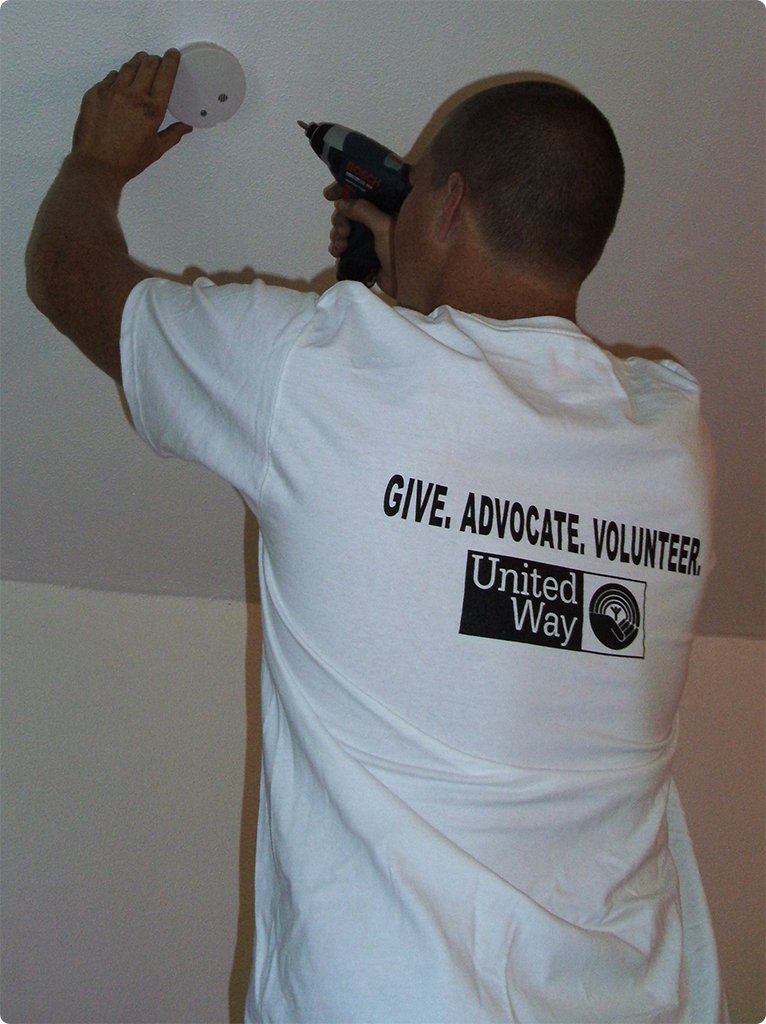 "The smoke detector will provide the first alarm, but knowing how to get out and where to go are just as important," says Freeport Fire Chief Jim Yarger. "We have been surprised by the number of homes with one or less detector. In the last year 327 homes have been inspected, 799 devices installed, and 26% of the homes had no working detector. These are much larger numbers than anticipated when the grants were applied for," states Lani Forbes of the Barry County United Way. "It's great that we received these grants to provide this program, if we can save one life it will be wonderful!" says Dave Middleton, Thornapple Fire Chief. According to the NFPA, the vast majority of fatal fires (60%) occur in homes without smoke alarms. A majority of those deaths that occur in homes with smoke alarms are a result of dead or missing batteries.
The Barry County Fire Association would like to also remind you of a few other fire related issues. With heating bills soaring this winter there is a concern about using alternative heat sources that are not safe. The Fire Association reminds you to make sure that any alternative heat sources that you may use are rated for use indoors and are properly vented. When you change your clocks, don't forget to change the batteries and test your smoke detectors.
Free smoke and carbon monoxide detectors available in Barry County, Lake Odessa, and Caledonia 
With more artic air forecast for the area, heating systems are working overtime to keep families warm. A mid-winter check of safety issues is in order for residents, and local fire departments can help.
Thanks to grants from the Pennock Foundation and Southside Pediatrics, free smoke and carbon monoxide detectors are available for residents of Barry County, Caledonia and Lake Odessa, Executive Director of Barry County United Way Lani Forbes said.
Fire departments in those areas will have 500 smoke detectors and 248 carbon monoxide units to install free of charge.  Applications are available at each fire department and the Barry County United Way website at www.bcunitedway.org.
When the application is filled out, fax it back to 269-945-4536, drop it off at your fire department or mail to Barry County United Way, 231 South Broadway, Hastings, MI 49058.
The responding fire department will then call to set a time to come to the residence for installation. One carbon monoxide detector will be available to each qualifying home.
"We are very happy to add this level of safety to the homes of the residents in the Barry County area," Freeport Fire Chief Jim Yarger said. "Now we can provide both free smoke detectors and carbon monoxide detectors."
Carbon monoxide is an invisible, odorless, tasteless gas produced when fossil fuels do not burn completely, or are exposed to heat (usually fire).  These fuels include wood, coal, charcoal, oil, natural gas, gasoline, kerosene or propane. Electronic appliances typically do not produce CO.
The family will notice flu-like symptoms when CO is present. If this occurs, get out of the home and call 911. The fire department will respond to your home with a special detector for carbon monoxide. All detectors will be installed to National Fire Protection Association recommendations and manufacturer's instructions.