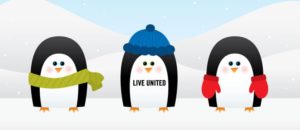 Make the SeasonBright!
As Christmas is quickly approaching, the needs in the community are greater than ever.   Barry County is fortunate to have many people in our community who are eager and able to support, volunteer and provide assistance, but it's not always clear what help is needed.  The "Christmas Wish List" provides a way for individuals to personalize gifts for agencies in our community that serve residents throughout Barry County.  While many of the agencies have listed "items" they would like to receive, others are in need of volunteers.  Volunteers play a vital role in the work that area agencies do and can make a tremendous difference in the lives of those they assist.
For more information contact Morgan Johnson at the Barry County United Way Volunteer Center at 269-945-4010.  "Christmas Wish List" items can be dropped off at the local agency that is requesting the item or can be brought to the Barry County United Way Volunteer Center at 231 S. Broadway in Hastings for distribution.
The "Christmas Wish List" follows:
The Barry Conservation District promotes responsible natural resource and land-use management for present and future operations.
4WD truck for invasive species strike team – Good condition
UTV for habitat work
Volunteers!
Contact Sarah Nelson, 269-908-4136
Barry County Commission on Aging provides direct services, advocacy and information/assistance to help those age 60 and up and their caregivers, to remain independent and safe in the community.
Cleaning supplies – Lysol, dish soap, laundry detergent
Size large adult pull up style briefs
Cat & dog treats for Meals on Wheels routes
Men's & Ladies fleece jackets – Size M, L
Bird Seed
Small Paper plates
BINGO prizes
Sugar Free Candy
Contact Tammy Pennington, 269-948-4856
Barry County DHHS provides assistance with Medicaid, food assistance, utility assistance, child care and other basic needs.  They also provide case management for children in Foster Care and vulnerable adults.
Gas cards
Personal hygiene items
Gifts cards for families in need
Contact Jennifer Eastman, 269-251-9581
Barry County Humane Society is dedicated to the prevention of cruelty and promotion of humane treatment of animals in Barry County.
Animal related crafts
Monetary donations
Lysol spray, wipes, paper towel
Contact Pattie Richardson, 269-721-3767
Barry County Substance Abuse Task Force is the county coalition working to prevent, reduce and address substance abuse issues in our community.  The Youth Leadership workgroup hosts an annual youth leadership summit and other youth-led events to promote positive youth involvement.
Sponsorship of $2,000-5,000 for 2019 Youth Leadership Summit
Lunch sponsorship ($1,000) for 2019 Summit
Speak stipend/fees ($1,500-2,000) for 2019 Summit
Free youth movie night sponsorship ($750-1,000)
Contact Liz Lenz, 269-948-4200
The Barry County United Way & Volunteer Center is improving lives by mobilizing the caring power of Barry County communities.  Programs include: information & referral, Fresh Food Initiative, homeless prevention, Volunteer Center, Veteran's Affairs, and the Toys for Barry County Kids Christmas Program.
NEW toys for any age for the Toys for Barry County Kids program
Wrapping paper
Board games for Christmas program
Contact Morgan Johnson, 269-945-4010
Delton Kellogg Middle School houses grades 5-8 in a small rural district with tight resources.
Bean bag chairs
Classroom supplies: dry erase markers, colored pencils, highlighters, glue sticks, double sided tape, magic erasers, pencils, pens, sticky notes
Portable Vises
PVC ½ in and connectors
Large stock tank for remote operated vehicle testing
YA sets of books
Headphones/earbuds
Healthy snacks
$15 gift cards for staff incentives
Contact April Margaritis, 269-330-5439
Delton Kellogg High School
Clorox wipes, hand sanitizer, Kleenex, cleaning supplies, soap
Pencils, pens, spiral paper, colored paper, tape, rulers, dry erase markers
Batteries (AA, AAA, 9v)
Contact Lucas Trierweiler, 269-623-1525
Family Support Center of Barry County works to eliminate and prevent all forms of child abuse and neglect through awareness, advocacy and education by assisting parents who struggle, providing support and education about safe sleep for infants, Kinship support and training for mandated reporters.
Laminating machine with supplies
Paper shredder
Diapers size 3,4,5,6, 2-3T, 3-4T and 4-5T
Storage Shelves
Contact Kim Metzger, 269-945-5439
Gilmore Car Museum is the largest automotive museum in the country, with over 400 vehicles on a 90-acre campus. As a 501(c)3 organization, donation and volunteer hours support operations, maintenance and enhance the visitor experience.
Donations for the Bus Fund, to transport area students for free field trips
Donations for Garage Works youth mentoring
Volunteers: gardening, grounds work, Garage Works mentoring program on Tuesday/Thursday evenings
2 Shop vacs, 2 leaf blowers
Whiteboard, flat screen TV
Enclosed trailer to transport small vehicles to educational programs at community events and schools.
Contact Stacie Longwell Sadowski, 269-953-9036
Green Gables Haven is Barry County's only domestic violence shelter and provides emergency shelter to women and children.  GGH also provides food, personal hygiene items, legal advocacy and counseling support to its clients.
Toilet paper, paper towel, paper plates
Laundry soap, Lysol wipes, floor cleaner, dryer sheets, toilet-bowl cleaner, bleach
$10 Gas cards, grocery cards
Plastic food storage containers, zip loc bags
Contact Christy at 269-945-4777
Habitat for Humanity Barry County is a Christian non-profit that brings people together to build homes for low-income families in need of safe and affordable housing.  HFH also operates a ReStore as a continual fundraiser for their home-building mission.
Building to move ReStore and offices to
Down payment to buy a building
Volunteers to help sort and move
Members for the Board of Directors
Contact Cindy Preston, 269-948-9939
Hope Network Transportation service of Barry County provides rides to Medical and Dental appointments within a 45-mile radius of downtown Hastings.  This no-cost based service is run entirely by volunteers with no paid staff.
Volunteers – Drivers and office help
Monetary donations
Transit tickets
Contact Judith Loofboro, 269-331-6007
Northeastern Elementary is 1 of 4 elementary schools in Hastings.
Classroom set of wobble stools (25 stools)
Painting of outdated cafeteria
Sounds panels for cafeteria
Painting of library room and bathrooms with positive statements/quotes
Contact Eric Heide, 269-948-4421
Pierce Cedar Creek Institute is an environmental education center with a mission to inspire appreciation and stewardship of our environment.  PCCI serves area k-12 schools, the community, environmental professionals and works with 14 colleges and universities.
Dry erase markets
Pencils
Colored pencils
Erasers
Glue sticks
Sharpie markers
Contact Sara Syswerda, 269-721-4434
Putnam District Library is located in Nashville and serves the townships of Castleton, Maple Grove and Assyria.  The library serves patrons by providing trendy books, internet access and engaging programs as well as a large variety of other free services.
Bluetooth speaker, paper cutter, die cutting machine (Cricut, Silhoutte)
Monetary donations to update seating in library and for "Wishlist" projects
Contact Savannah Shilton, 517-852-9723
Spectrum Health Pennock is located in Hastings and is a hospital that has been present in the community for many years.
Child coloring books and crayons
Barry County Transit passes
Diapers larger than newborn
Contact Janine Dalman, 269-945-3651
The Shack is a free clothing outreach that is open to everyone regardless of residency or income (located in Delton).
Clean and gently used children's coats, boots and gloves
NEW children's underwear
Volunteers to help during open ours or to transport items to missions/shelters
Monetary donations to help pay their monthly utility bill
Volunteer grant writer
Contact Kathy Forsyth, 269-207-2515
Thornapple Manor is a person-centered long-term care facility that also offers skilled nursing, dementia care and rehabilitation in Hastings.
Bird seed, bird feeders
300-piece puzzles (larger pieces), large print novels, travel/nature/animal DVD's, large print word search/crossword, portable CD/radios, small size photo albums
2 Keurig coffee machines
Outdoor ceiling fan
Portable outdoor fire pit, garden décor, holiday inflatable blow ups, home décor for resident rooms
Industrial laminator
Hand lotion
Contact Myra Dayus, 269-945-2407
YMCA of Barry County's mission is to provide opportunities for all individuals and families to participate in quality activities and programs that promote youth development, healthy living and social responsibility consistent with Christian values.
Volunteer groups in March, April and May
Mountain bike storage racks
Life jackets – youth and adult
Batteries (AA, AAA)
Backpack leaf blower
Contact Jon Sporer, 269-945-4574